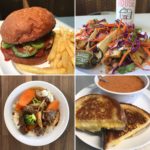 MONDAYS Sometimes all we need on Mondays is comfort. You got it! Every Monday Wildwood will warm you up with a classic grilled cheese sandwich and our house-made tomato soup for just $9. Our grilled cheese is toasted to perfection with medium cheddar and sharp white cheddar between our Como white bread from Grand Central Bakery. Soup: Creamy Tomato Basil
TACO TUESDAYS Who doesn't love a good quality taco? Our kitchen has created some fantastic tacos over the last few months, from our classic Chicken Verde to Sweet Potato and Chickpea, even Taco Salad. Always 3 for $9. All topped with our house-made salsa. What has been your favorite so far? Soup: Turkey Orzo & Veg
WINE-O WEDNESDAY It's like Happy Hour ALL DAY LONG! $1 off all wine-by-the-glass and $4 pints of beer. We always have 6 beers on Tap and pours 5 bottles of wine. Follow us on Untappd for our current beer selection. Soup: Carrot Ginger
CLAM CHOWDER THURSDAY Is it possible that our day revolves around our soup? YES! Our clam chowder is creamy with corn, potatoes, bacon, and loads of clams. We've heard it's some of the best. Come give it a whirl and check the Special's board to see what are kitchen is featuring.
FRIDAY NIGHT IS BURGER NIGHT You think our everyday burgers are awesome, you gotta try our our Friday special burger! Every week we change up the creation. There's been Hawaiian with pineapple & bacon, Breakfast with ham & egg, but our favorite has gotta be the spicy BBQ with jalapeños and house-made sauce…. or maybe the Falafel Burger with tzatziki, pickles & garlic tahini. Wonder what we will think of next… Soup: Vegetable Green Curry
WEEKEND SPECIALS Our weekends get creative! From special soups and fabulous appetizers, to wholesome breakfast stratas and loaded grilled sandwiches. Give us a call to see what is new!