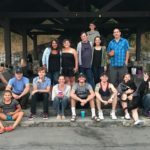 1. People from everywhere! Being so close to the ferry and the most beautiful park in the city, we tend to meet a lot of folks from ALL over the world just looking for a bite to eat. Wether they are waiting for the next ferry (or missed the first one), looking for the prefect picnic, or the neighbor next store just needing a cup of sugar, we have been so happy to help.
2 . Beautiful Weekends also bring long lines. Wish we could truly predict the weather so we can staff accordingly. We opened in the Winter and quickly learned that those first beautiful weekend days, Seattle-ites were out and about and needed to be fed. Thanks for your patience as we figured out some of those long line glitches this Summer. We have added a second POS system to help ease the line and we have added packaged salads and more to our new Grab & Go refrigerator for those in a hurry. Plus, with practice, we have also become quicker!
3. We are healthy eaters. We strive to make sure we have something for everyone. From our Flank Steak Sandwiches to our Kale Caesar Salad, we were totally surprised that one of our top selling sandwiches is The Wildwood. Our namesake is stuffed with avocado, herbed mascarpone, cucumbers, tomatoes, red onion, and spinach between whole grain wheat bread from Grand Central Bakery.
4. Breakfast is a hit! We have staff from all over the country that bring ideas to the table, but when co-owner, Lonjina Verdugo from New Mexico came along, the one thing was a must have, was the breakfast burrito. Our breakfast is in-line with our fast-casual lunch & dinners: Wholesome, Convenient, and Good. The Trolly burrito is obviously customers favorite, with our brioche french toast smothered in syrup and whipped cream running a close second.
5. Our staff! Hard-working, smart, well-rounded, friendly. We knew we hired well, but our staff has gone above and beyond the call of duty. They put so much thought into food specials, private events, recommendations to customers, and store upkeep… We've been thrilled so far, and incredibly lucky. We have people with years of kitchen experience and who are incredibly passionate about the food.
6. You love us! 4.6 stars on Google • 4.5 stars on Yelp • 5 stars on Facebook
Thank you for noticing all our hard work and thoughtful menu planning, your recommendations to friends and family are paying off in 6 short months, we're catching our breath. We'll keep doing what we do, but so far, so good. THANK YOU!